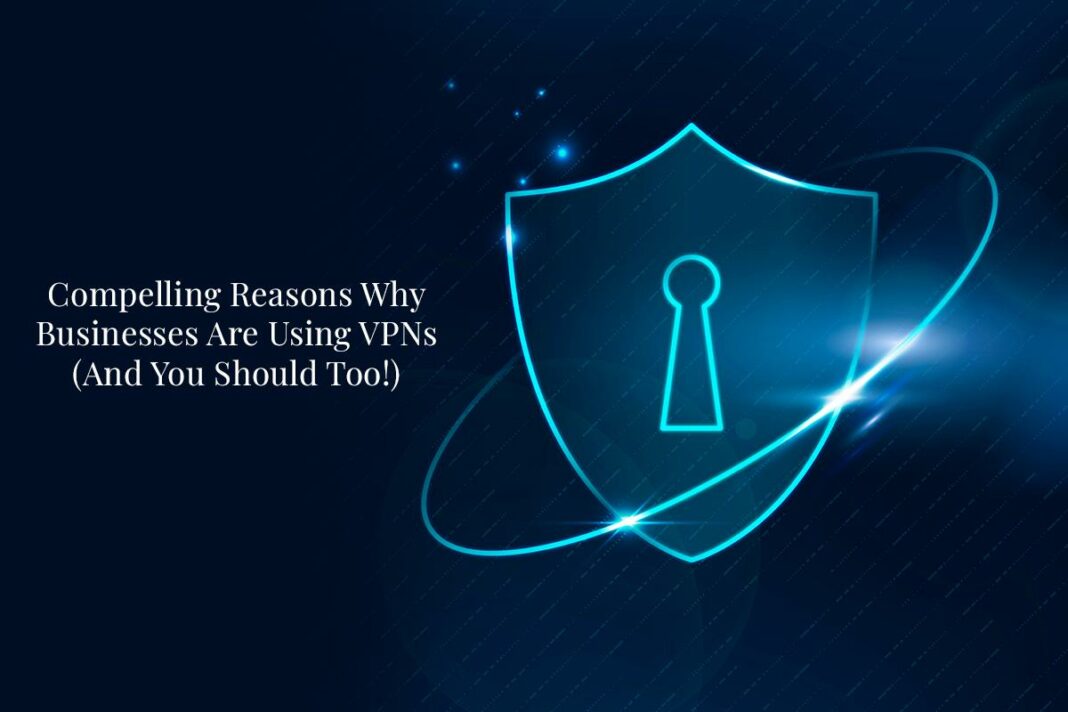 A virtual private network (VPN) is a tool or mechanism that encrypts Internet traffic and data. It creates a secure tunnel through which data is sent and received online. 
The tool further strengthens privacy and security online by disguising IP addresses. Moreover, it is generally believed that VPNs make it safer to connect to public Wi-Fi networks. 
VPNs are as helpful for individual users as businesses. Some popular VPN providers include Surfshark, Proton VPN, WireGuard, Express VPN, CyberGhost VPN, and TunnelBear. 
This guide focuses on why businesses must use VPNs, especially since working from home is the new normal. Today, companies are vulnerable to cybersecurity threats more than ever, and a virtual private network can help minimize the risks. So continue scrolling to learn how your business will benefit from a VPN. 
How do VPNs Help Businesses?
VPNs prevent hackers from stealing confidential business information. In addition, all video and voice chat data are encrypted, so unwanted listeners are kept from eavesdropping on your Zoom meetings or business calls. 
Third parties cannot record your business calls and chats without permission if VPN is turned on. This is especially essential at a time when remote working is the new norm. 
Independence from Geo-Blocking Restrictions 
Do you need employees to travel to countries with strict Internet access laws? For example, suppose you are traveling to China or North Korea for business purposes. In that case, you might be in situations where you cannot access your corporate resources across the open Internet. That's because the country has blocked access to a specific service or website.
Thanks to VPNs, users can continue to use the Internet as if they are still in the USA or their home country. Although this advantage may apply to a small portion of SMs, it is a crucial benefit and one that can be a game changer for businesses trying to expand to countries with strict Internet laws. 
Better and Improved Security 
Boosting online safety and privacy is the number one reason why businesses use VPNs. The VPN service helps keep things like passwords, location, IP address, and sensitive data safeguarded and out of reach from potential cyber attackers. 
VPNs create an encrypted connection between the user's device and the network and other resources that the user may log into. 
Suppose your business is transferring data between web applications like Dropbox or within Microsoft 365, an additional layer of security can be added by using a VPN service. Therefore, it will ensure security and safety between the source of the data and the destination. 
However, this does not mean you must negate or remove all other security measures in favor of a VPN. For example, since VPNs protect activities across websites and the Internet, you will still need to use anti-virus software and other security measures to protect your device against virus and malware attacks. 
In simple words, VPNs work in tandem with other security measures to heighten online safety and privacy. 
As work from home continues in full force, deploying VPN software is an excellent decision for small, medium, and large businesses. Employees may need to log into the company's data center from outside the office, while on the road, or from home. Since all confidential business data is stored in the data center, companies must guard it with all their might. Businesses will be compromised if this data gets leaked or hacked, and the damage will be severe. 
Therefore, companies must deploy VPN software and teach employees how the software works. In addition, anyone accessing the company's network and data center remotely must turn on VPN to ensure the data and network remain secure. 
Most VPN service providers offer various packages and subscription plans to help businesses find the one that suits their needs. Browse through the plans to make your decision. 
Low Costs and Multi-Device Protection
Using a VPN is the most affordable option compared to other cybersecurity measures. Also, setting up a VPN is a straightforward process. First, businesses must go through the list of available VPN providers and compare their subscription plans. Then, visit the VPN provider's website or download the app. 
Next, an account must be created to start using the service. Then, the account details must be shared with the employees and other staff so they can connect to the service from their respective systems. Finally, while using the VPN, users must choose their preferred server and proceed to work. 
Although free VPN services are available, businesses are discouraged from using them as they may offer a different level of security than paid services. 
Moreover, once a VPN network is set up, the maintenance costs are low. If you choose a VPN for business where many users can operate with a single license, you can further reduce cybersecurity costs and don't need to install new software. 
Also, some VPNs can be run across devices and platforms. They offer multi-device protection by providing multiple simultaneous connections to safeguard your devices against hackers. 
Using a VPN is the ideal solution if several devices are used and you want to ensure all of them are protected. You may not even have to think twice about connecting to the service, as some of them can always be instructed to remain turned on. 
Factors to Consider When Choosing a VPN for Your Business
Ensure the VPN service supports multiple devices and a number of platforms. 

Check the level of security. Typically, 256-bit encryption is the standard. 

Private gateways and dedicated servers so everyone in the company can hide their IP addresses. 

The subscription plans that are available and if it aligns with your budget. 
Final Thoughts
With a VPN, network security and privacy are a breeze for businesses. However, if you have yet to subscribe to a VPN service, you are making it tedious for your IT department to maintain the highest data and online security standards. So start looking for the best VPN service for your business.